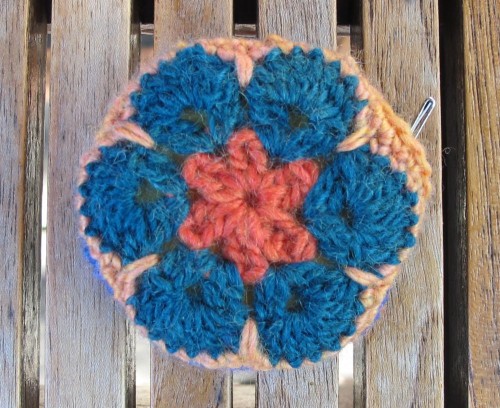 Ma copine Isabelle fêtait son anniversaire, et en plus du cadeau commun, j'avais envie de lui faire un petit clin d'œil avec un cadeau fait main. Mais un clin d'œil rapide, parce que je manque toujours de temps !
My friend Isabelle was having her birthday, and I wanted to give her a hand-made little something. But a quick little something, because I'm always running after time!
J'ai emprunté une idée à Eva-Lotta Staffas, l'un de mes héros d'artisanat textile.
I borrowed an idea from Eva-Lotta Staffas, one of my textile crafts heroes.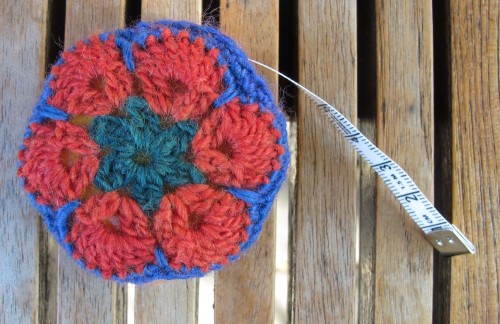 Il s'agit tout simplement de prendre un mètre de couturières rétractable, et d'habiller le boîtier rond avec deux motifs « African Flower » qu'on assemble sur la tranche.
The idea is simply to take a self-retractable measuring tape and enclose the round container in two « African Flower » motifs, assembled at the edge.
Vous trouverez des explications en français pour ce motif au Boudoir de Dame en Noir.
You can find the English pattern for this motif on Heidi Bears' blog.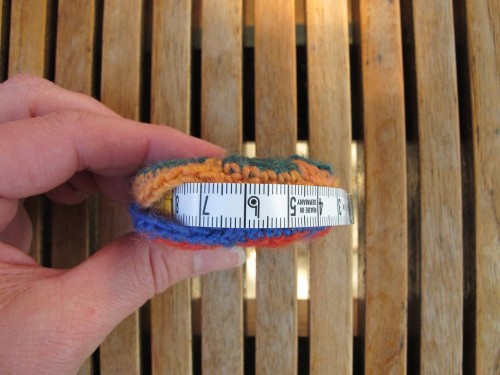 Il faudra bidouiller le bord un peu, pour adapter le motif à la taille de votre mètre enrouleur. Si ce n'est pas un très gros mètre, je vous conseille plutôt un fil fin (j'ai utilisé des restes de Mini Mochi) et un crochet pas trop gros (3 mm dans mon cas).
You will need to fiddle around with the edging a little, to adapt the motif to the size of your measuring tape. If the container isn't unusually big, I suggest you use fingering weight yarn (I used up some Mini Mochi scraps) and a rather small hook (3 mm in my case).
Vous laisserez une petite ouverture pour faire sortir le mètre.
Leave an opening in the seam so you can pull out the tape.
Merci, Eva-Lotta, pour l'idée !
Thank you for the idea, Eva-Lotta!