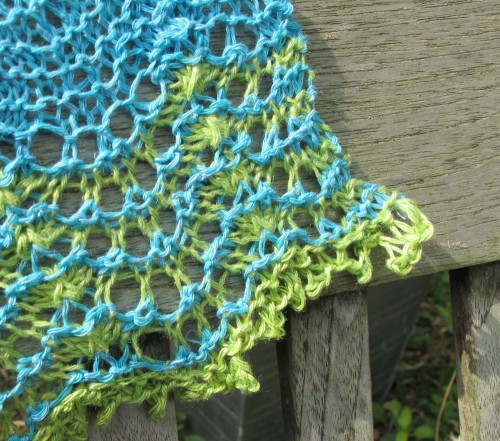 Il y a quelques jours, je vous ai présenté Montrachet. Hier, je vous ai parlé des nouveaux coloris de Linea. Et j'ai eu envie d'associer les deux …
A few days ago, I published the French verison of Kirsten Kapur's pattern Montrachet. Yesterday, I showed you the new colours available in the Linea range. This made me want to combine the two…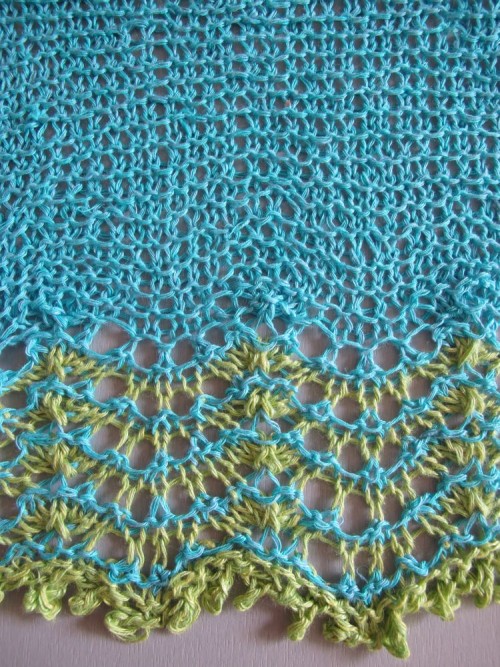 Dans mon échantillon, tricoté avec les aiguilles recommandées dans la fiche (4 mm), j'obtiens un résultat léger mais avec de la tenue. Le caractère du lin s'exprime à merveille dans le point mousse, et la dentelle simple de la bordure est juste parfaite pour ce fil.
In my swatch, knitted with the needle size indicated in the pattern (4 mm), I got a light fabric with lots of body. The linen's character expresses itself so well in garter stitch, and the simple lace border is just perfect for this yarn.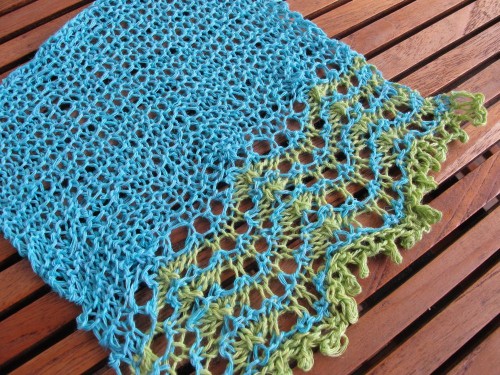 Si ces deux coloris vifs vous font mal aux yeux, je vous propose d'utiliser en coloris principale (ou en coloris des rayures !) un neutre comme le gris lin ou le tabac.
Au blocage, j'aime bien étirer ce fil dans la hauteur pour ouvrir les mailles. C'est magique !
If these two bright colours make your eyes hurt, you can swap the main colour (or the contrast color!) for a more neutral one such as the tobacco or the grey linen.
When blocking this yarn, I like to stretch out the work heightwise to open up the stitches. It's magic!
Modèle Montrachet, créé par Kirsten Kapur, disponible ici. / Linea dans la boutique.
Montrachet pattern available in English directly from the designer. / Linea in the shop.