Le picot du jour est le même qu'utilisé avant, par exemple le 16 décembre.
Today's picot is the same as used previously, e.g. December 16.
Dagens picot är densamma som använts tidigare, t ex den 16:e december.
Tour 3 : 1 mc sous le premier arceau de 3 ml, 1 ml, (1 ms, 1 demi-br, 1 br, 1 picot, 1 br, 1 demi-br, 1 ms) dans chaque arceau. On s'arrête là, on va voir ensemble comment fermer le tour !
Round 3: 1 sl st in first 3-ch space, ch 1, (1 sc, 1 hdc, 1 dc, 1 picot, 1 dc, 1 hdc, 1 sc) in each ch space around. Let's stop here and see together how to close this round!
Varv 3: 1 sm under första 3-lmb, 1 lm, (1 fm, 1 hst, 1 st, 1 picot, 1 st, 1 hst, 1 fm) i varje lmb på varvet. Nu stannar vi till och går tillsammans igenom hur vi sluter det här varvet!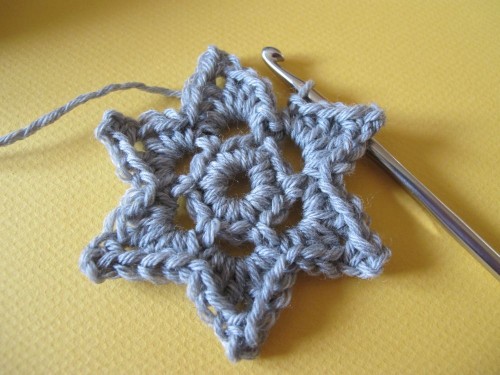 Arrêter le fil : couper le fil entre l'ouvrage et la pelote, en laissant une longueur suffisante pour le rentrer à l'aiguille. Allongez la boucle en tirant sur le crochet (ne pas tirer sur le bout du fil !), jusqu'à ce que le bout du fil sort – la boucle est défaite. Pas besoin de faire un nœud !
Fasten off: cut the yarn between your work and the yarn ball, leaving a sufficient length to weave in the end with a yarn needle. Elongate the loop on your hook by pulling on the hook (do not pull on the yarn end!) until the yarn end comes out of the stitch – the loop is undone. No need for any knots!
Ta av garnet: Klipp av garnet mellan arbetet och nystanet. Lämna en garnände som är tillräckligt lång för att kunna fästas med en stoppnål. Dra ut öglan på virknålen genom att dra i virknålen (dra inte i garnänden!) ända tills garnänden löper ut ur maskan och öglan löses upp. Det finns ingen anledning att göra som en massa fransmän, amerikaner eller engelsmän – de knyter ofta en onödig knut här.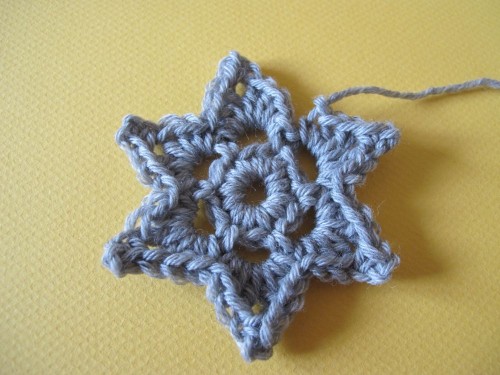 Enfiler le bout du fil sur une aiguille à tapisserie et piquer dans la première maille du tour. Serrer doucement pour fermer le tour. Rentrer le fil au dos de la petite étoile. (Pour des conseils sur comment rentrer le fil, voir mon bulletin de septembre 2012).
Thread the yarn end onto a tapestry needle and insert the needle in the first stitch of the round. Pull through and pull lightly to close the round. Weave in the end at the back of your little star. (For advice on weaving in ends, see my newsletter of September 2012).
Träd garnänden på en stopp nål och stick nålen genom första maskan på varvet. Dra igenom och dra försiktigt till för att sluta varvet. Fäst garnänden på baksidan av den lilla stjärnan. (Råd om att fästa trådar finns i mitt nyhetsbrev för september 2012).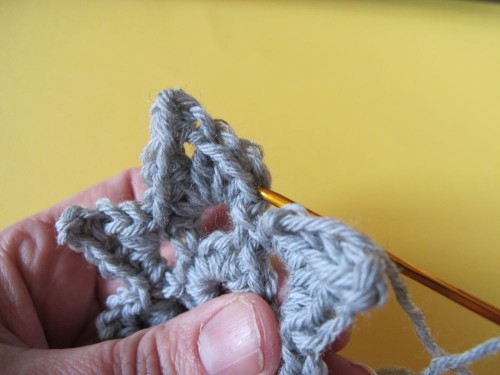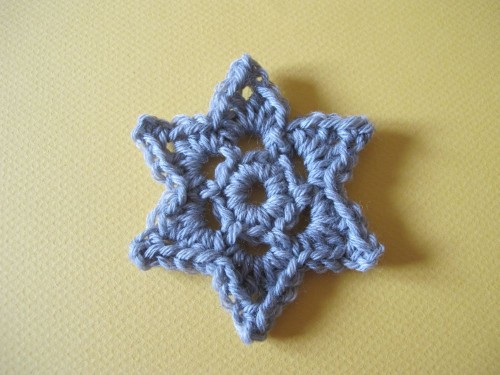 Pour faire une boucle pour accrocher l'étoile dans le sapin :
Accrocher le fil avec 1 mc dans un des picots à la pointe d'une branche d'étoile, 15 ml, 1 mc dans le même picot. Arrêter le fil. Rentrer les fils, ou, si vous êtes aussi paresseux que moi, nouez les et dites que c'est décoratif.
To make a loop for hanging:
Attach yarn with 1 sl st in one of the picots (at the tip of one of the star branches), ch 15, 1 sl st in same picot. Fasten off. Weave in ends, or if you are as lazy as I, make a knot and tell everyone that it's decorative.
Upphängningsögla:
Fäst garnet med 1 sm i en av picoterna (i en stjärnspets), 15 lm, 1 sm i samma picot. Ta av garnet. Fäst trådarna, eller var lika lat som jag och knyt en rosett och tala om för alla att det är en extra liten prydnad.
Je sais, j'ai fait un petit écart par rapport à la flore irlandaise, mais je trouve qu'on a besoin d'étoiles pour Noël!
Bon weekend, ne ratez pas les offres spéciales de samedi et dimanche!
I know, it's a bit different from the Irish flora, but I think we need stars for Christmas!
Have a nice week-end and don't miss the special offers on Saturday and Sunday!
Jag vet, det är ett avsteg från den irländska floran, men jag tycker att man behöver några stjärnor till jul.
Ha en trevlig helg och missa inte specialerbjudandena på lördag och söndag!