Newsletter July 2014: A little border worked to needed lengthIn the shop:EclatDuSoleil has a new pattern for a splendid summer shawl: Such a beautiful bride.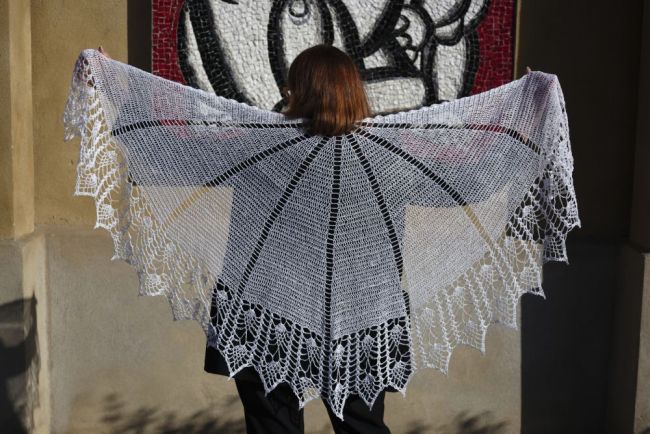 Worked in white linen (as in the picture), it's a perfect wedding shawl, but I am also looking forward to seeing your interpretations in other colours and yarns!More information in the shop. I am also happy to announce that I'm now stocking Alana Dakos's new book, Botanical Knits 2.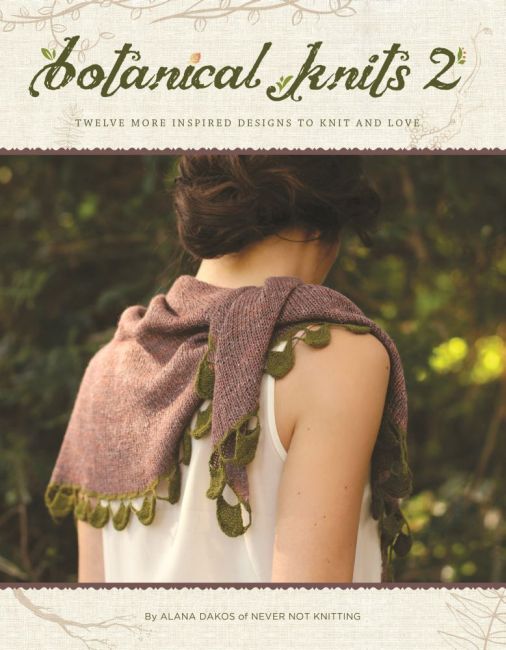 This might be of special interest to my European customers.More information in the shop.A little border worked to needed lengthSome things are associated with crochet to the point that they almost symbolize the craft, especially in the eyes of those who do not engage actively in it. The granny square is one of those things, and the crocheted border is another. So let's talk about borders for awhile – or edgings, I'm going to use both terms without distinction. There is quite a lot to say, I think, but I'm going to start out simply and easily with a little border I came up with (relying heavily on existing sources) to edge a small textile project.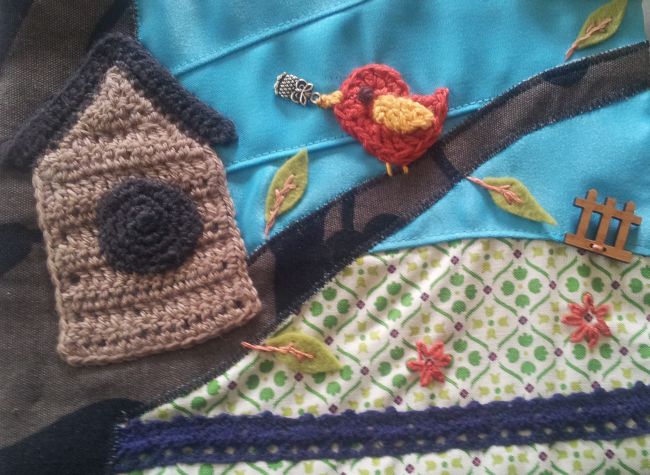 A friend of mine had asked me to participate in an exhibition she was to organize at one of France's major textile craft shows. She gave me a small kit with fabrics, a ribbon, embroidery thread and some other bits and pieces that should be part of the project. The theme was birdhouses. From there, every participant made what she liked.I made the little project above, trying to incorporate crochet in several ways. Once the picture was finished and the backing was attached I needed to make some kind of border in crochet, both to cover up a few imperfections where the front and the back came together and to emphasize the « crochet » aspect of my contribution.However, I couldn't just pick up any book on borders and edgings and use whatever I liked. The edging needed to fulfill several criteria:1: This was a little something I had thrown together in a few evenings, not a project that I intended to spend a lot of time on (even though I discovered in the process that I really enjoyed making this kind of multitechnique textile picture). Time was running out, I was soon to meet my friend again, and I had to finish as quickly as possible.2: My finished picture was, to be honest, a little wonky. I liked it that way, but the edges didn't match perfectly in length. Any carefully swatched and calculated large motif repeat was doomed to fail – even if I had had the time to spend.3: I had used multiple layers of different fabrics in different thicknesses. I didn't even need to try to know that I couldn't possibly poke a hook, be it very fine and pointy, through all this. These criteria led me to decide that what I needed was a quick, not too large border. It had to be worked from one end to the other, and I would need to sew it onto the project, putting my sewing needle only through the first layer of fabric.I pulled out a bunch of crochet books from my bookshelf and started looking. Most borders I found were to be worked like this along the edge of a project: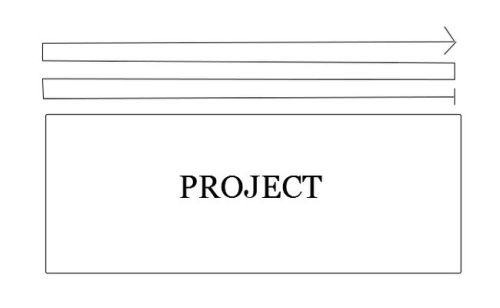 I needed something worked like this: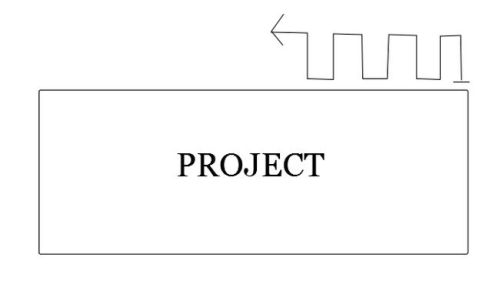 So I mixed one of my favorite small-scale edgings with the construction of a crocheted ribbon found in a Japanese book, and came up with this: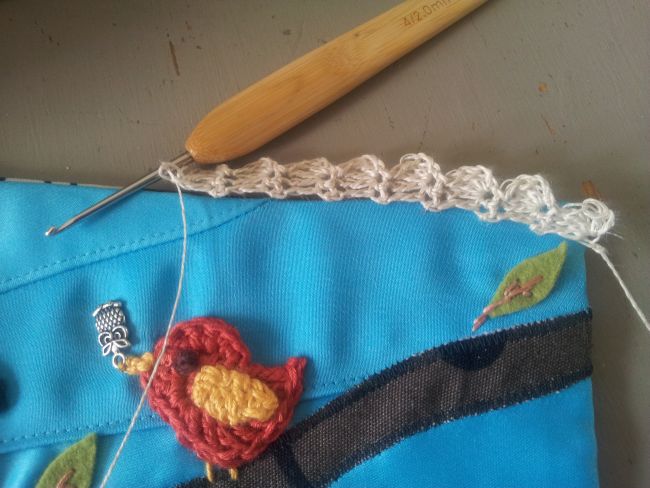 This is how I worked it: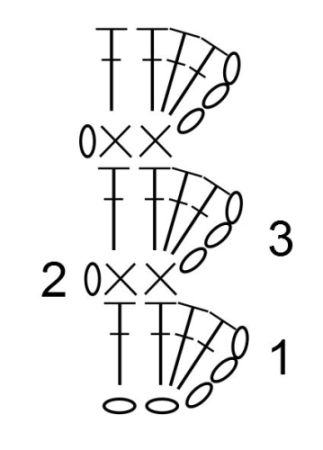 Ch 5.Row 1: 3 dc in 4th ch from hook, 1 dc in last ch. TurnRow 2: Ch 1, 1 sc in first 2 dc. TurnRow 3: Ch 3, 3 dc in first sc, 1 dc in second and last sc. Turn.Repeat rows 2 and 3 for the pattern.Not particularly ground-breaking, perhaps, but it worked.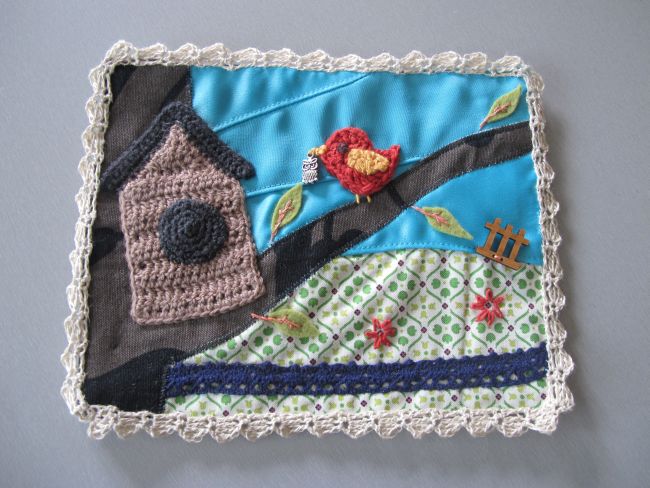 I worked my edging and sewed it on as I went, simply rotating at the corners (it's a bit tight in some places), and sewed the end to the beginning once I was back where I started.What is your favourite edging in crochet? And what would you like me to discuss regarding borders and edgings? Please send me an e-mail and let me know! The edging in this newsletter was crocheted in Annette Petavy Design linen laceweight col cream, with a 2 mm bamboo and metal hook.  See you soon!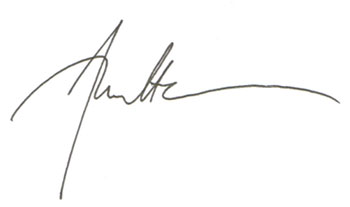 Newsletter index