Newsletter February 2015: Embellished wrist warmersIn the shop:A beautiful new knitting pattern by EclatDuSoleil: Geometry in Blue.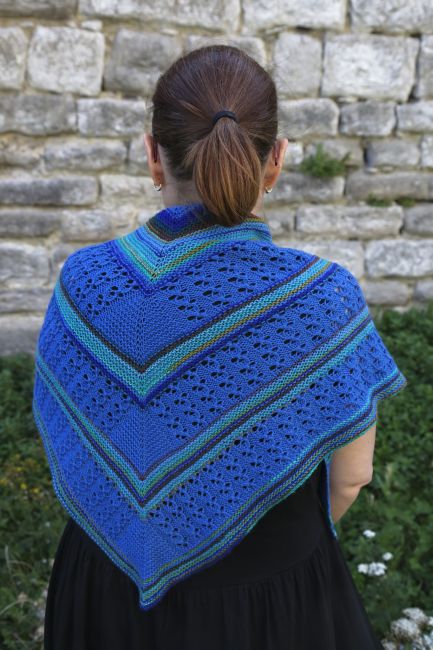 Simple stitches for a distinctive look – play with a multicoloured yarn such as the Mini Mochi and a single-coloured one such as the fingering weight merino to knit a shawl to complement your wardrobe.More information in the shop.On the blog: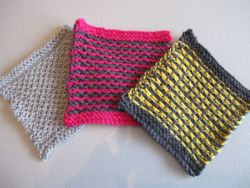 Playing with knitting needles, slipped stitches and the merino DK yarn.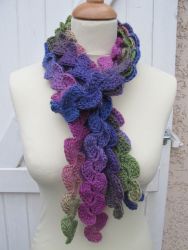 A scarf full of crocheted hearts for Valentine's Day.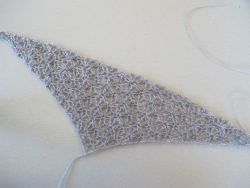 Swatches, light as whispers, in the cobweb yarn.And a new podcast episode in French: episode 37.Embellished wrist warmersLast month I discussed how to make an extended tunisian simple stitch. This month, I want to show you a small project that uses this stitch, namely a pair of wrist warmers.Wrist warmers are very popular in Sweden, my native country, and a search on the Swedish term pulsvärmare yields a lot of very varied results.As I said in the newsletter for December, I am currently very inspired by contemporary takes on traditional Swedish embroidery, and a narrower search in Swedish, for embroidered wrist warmers, shows the kind of projects that were on my mind when I was thinking about this month's newsletter.However, I wanted to crochet the embellishments for my wrist warmers instead.I started with the base, of course. (At the end of the newsletter you will find a link to a pdf that explains more in detail how I made these.)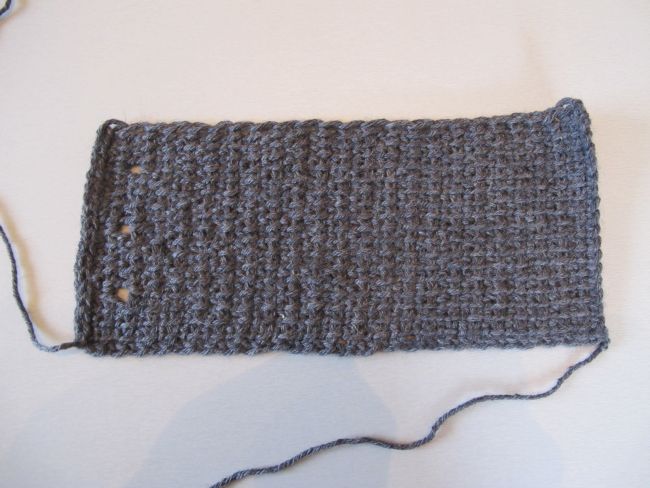 This basic wrist warmer is about 10 cm high. I made it long enough to fit comfortably around my wrist (20 cm) and added the buttonholes.At first, my plan was to draw a line around the finished base to make a paper pattern on which I could plan the layout of my embellishments. However, while I worked on the base, a rather clear image of what I wanted to achieve formed in my head.I scribbled around with my hook and worked out the elements I wanted to add (see pdf for details). When they were finished, I laid them out on my base to check that they would fit.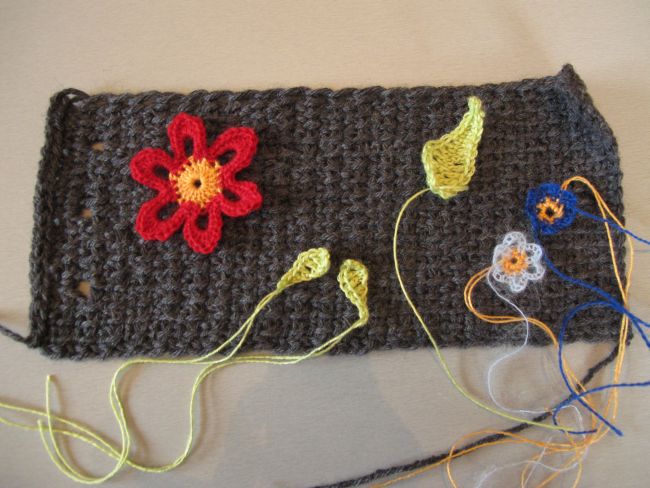 Two areas on the finished wrist warmer will overlap: the buttonhole « band » and the opposite short edge which works as a « button band » (although these parts are worked along with the rest of the base and are not added as separate « bands »).I thought it would be impractical to embellish these parts of the base. I sewed on the buttons (a limited number of these bird buttons in polymer clay are available in the shop), tried on the wrist warmer, and marked the « button band » with a piece of yarn.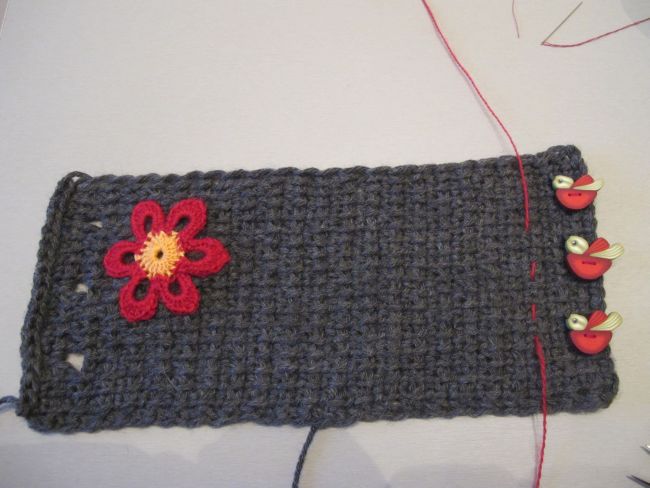 The big red flower was sewn on to mark the limit at the buttonhole edge.I continued sewing on the various embellishments.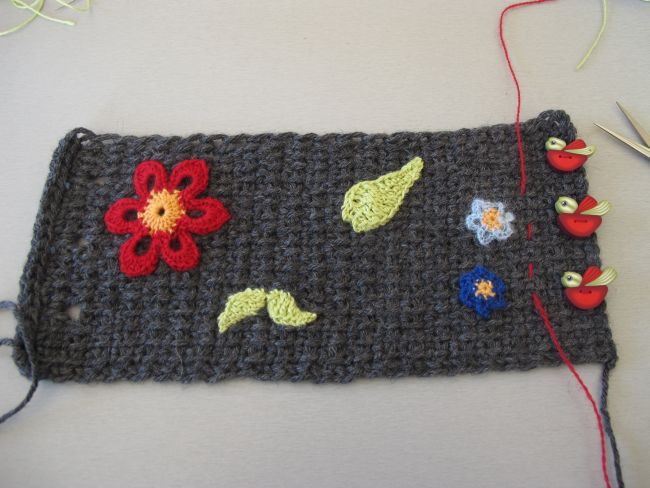 I added the « stem », worked in surface crochet (slip stitches) vertically through the base, and the edging.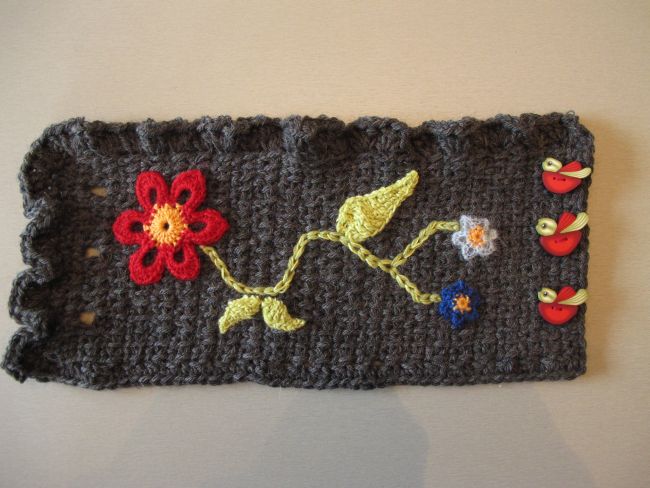 I made a second one, as a mirror image of the first, to make a pair.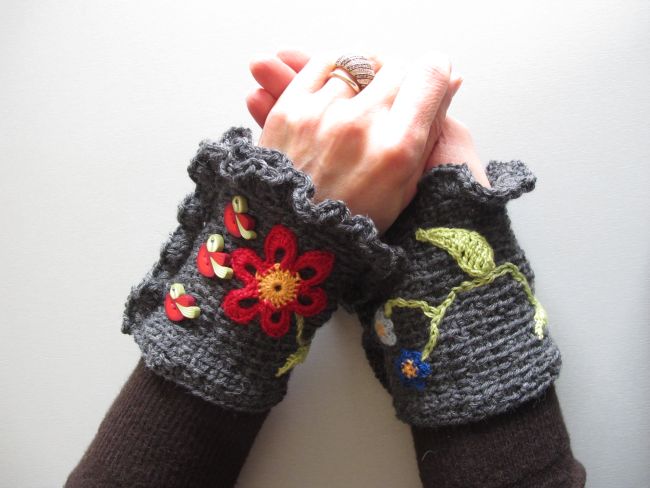 The pdf with more detailed instructions is available here.Now my wrists are both warm and pretty! How about yours?The wristwarmers shown in this newsletter were crocheted withAnnette Petavy Design's Merino DK anda 5 mm tunisian standard hook.Embellishments were made with scraps of laceweight wool, laceweight bamboo,laceweight mohair (out of stock) and fingering weight merino. See you soon!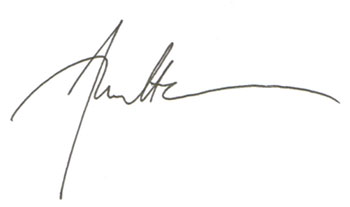 Newsletter index