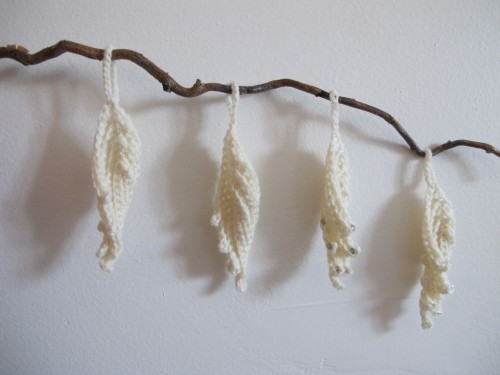 Voici mes petites feuilles sur une branche (car pas encore de sapin chez moi!). Toutes en mérinos fin avec un crochet de 3 mm, et pour les deux sur la droite, quelques perles. L'une avec une perle simplement ajoutée avant de faire la maille en l'air pour tourner, l'autre avec 2 mailles en l'air ajoutées (donc 3 pour tourner) et glissée sur la maille avant de faire la deuxième. La différence n'est pas très grande, dans les deux cas, les perles se lovent dans les mailles.
La méthode que j'ai utilisé pour ajouter les perles est décrite dans mon bulletin d'information d'avril 2010.
Et vous ? Que faites-vous avec vos feuilles ? N'oubliez pas de m'envoyer des photos par mail ou les partager dans le groupe Facebook!
Here are my little leaves on a branch (no tree yet in my house!). They are all crocheted in fingering weight merino with a 3 mm hook and, for the two on the right, a few beads. One with the bead just added to the stitch before chaining 1 to turn, the other with 2 more chains (ch 3 to turn), the bead added to the loop just before the second chain. The difference isn't dramatic. In both cases, the beads are encased in the stitches.
The method I used to add the beads is described in detail in my newsletter for April 2010.
And you? What are you doing with your leaves? Don't forget to send me pictures via e-mail or to share them in the Facebook group.
Här är mina små löv på en gren (har ingen gran än!). Alla virkade i tunn merinoull med en 3 mm virknål, samt för de två till höger, några pärlor. I det ena lövet lade jag bara till en pärla innan jag virkade luftmaskan för att vända. I det andra gjorde jag 2 extra lm (alltså 3 lm för att vända) och satte pärlan på öglan innan jag gjorde den 2:a lm. Skillnaden är inte så stor, i båda fallen sitter pärlorna omslutna av maskorna.
Metoden för att lägga till pärlorna beskrivs i detalj i mitt nyhetsbrev från april 2010.
Och du? Vad gör du med dina löv? Glöm inte att mejla mig dina bilder eller dela dem i Facebook-gruppen.