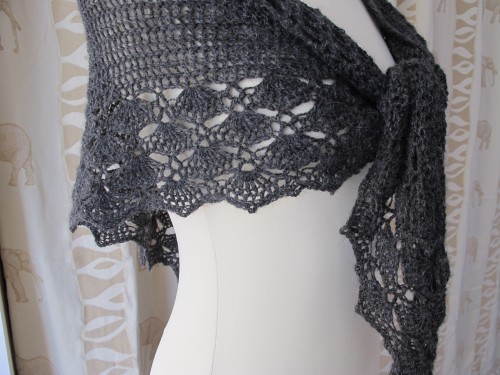 Cette version hivernale de Brise d'Eté (une création d'EclatDuSoleil) réalisée en alpaga dentelle, a été très remarquée et appréciée sur mon stand à Créativa Grenoble au mois de janvier.
This winter version of the Summer Breeze shawl (an EclatDuSoleil design), crocheted in laceweight alpaca, got a lot of attention in my boot at the craft show in Grenoble in January.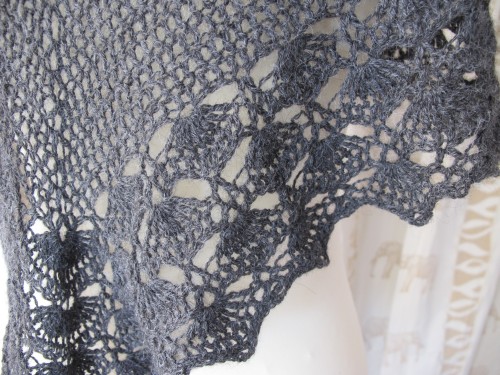 Pour ce châle, réalisé selon les indications pour le petit modèle vert de la fiche, il a fallu 100 g de fil (il vous en faudrait 150 g pour le grand modèle). J'ai utilisé un crochet de 4,5 mm, encore plus gros que celui de la fiche, pour bien aérer ce fil légèrement duveteux.
I made this shawl following the indications for the small green shawl in the pattern. I used 100 g of yarn (for the larger version you would need 150 g), and a 4.5 mm (US 7) hook. This hook is larger than the one recommended in the pattern, to open up this slightly fuzzy yarn.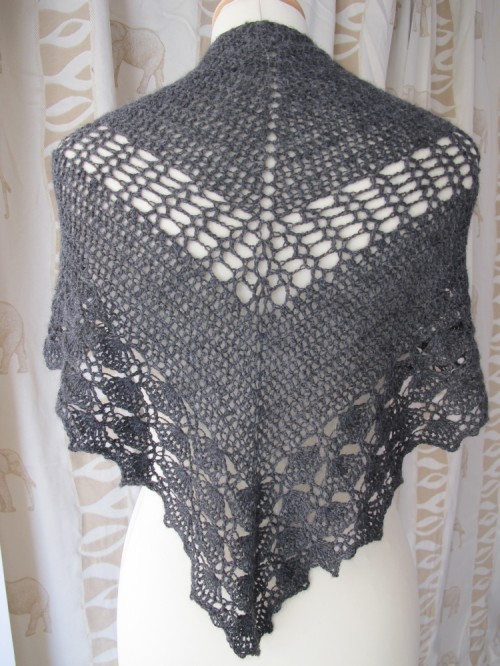 Le résultat est un châle très léger et doux, mais aussi bien chaud, grâce aux propriétés de l'alpaga.
The result is a very light and soft shawl that is also warm, thanks to the alpaca.
Le fil existe désormais en 6 coloris différents et se trouve ici. Pour la fiche, c'est là.
The yarn is now available in 6 different colours, and you can find it here. The pattern is here.