La publication de Firebird, le très joli châle d'EclatDuSoleil, m'a donné envie de faire l'inventaire des châles déjà présents dans la boutique qui sont construits comme des baktus (c'est-à-dire réalisés d'une pointe latérale à l'autre).
Publishing Firebird, EclatDuSoleil's lovely shawl, made me want to take stock of the shawls already present in the shop that are constructed as baktuses (i. e. worked from one side tip to the other).
Aujourd'hui, on cause tricot !
Today, we're knitting!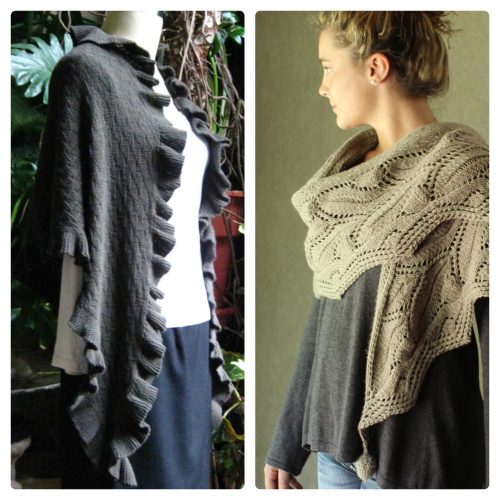 Carol Sunday aime la construction en baktus ! Dans ma boutique, vous trouverez les traductions françaises de Cambridge (à gauche) et Oakberry (à droite).
Carol Sunday loves baktuses! I'm selling the French translations of the patterns for Cambridge (left) and Oakberry (right). The patterns in English are available in Carol Sunday's Ravelry store.
Carol créé des modèles pour des tricoteuses relativement expérimentées, mais Cambridge reste tout à fait accessible. Il faut tout simplement comprendre que le volant se tricote en même temps que le centre du châle, avec des rangs raccourcis pour lui donner de l'ampleur.
Oakberry, publié assez récemment, est un festival de points ajourés et en relief, avec des rangs raccourcis pour agrémenter le tout. Si vous avez déjà tricoté des modèles un peu plus sophistiqués, vous allez vous régaler !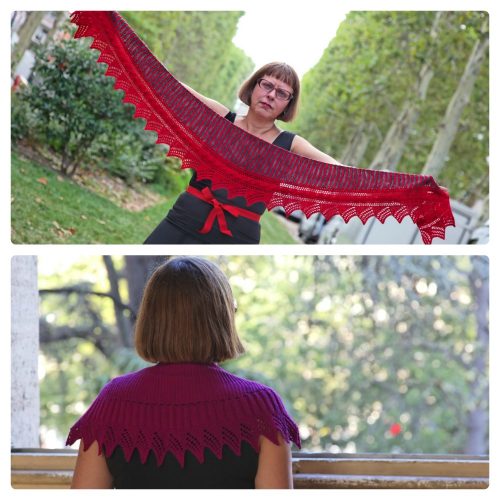 Et bien sûr EclatDuSoleil/Hélène Marcy n'est pas à son coup d'essai en termes de baktus. Soleil Rouge (en haut) et Pointue (en bas) sont dans la boutique.
And of course EclatDuSoleil/Hélène Marcy is not a beginner when it comes to baktuses. Red Sun (top) and Pointue (bottom) are in the shop.
Soleil Rouge est tricoté en deux temps : d'abord le centre rayé en deux couleurs, et ensuite la bordure unie, accrochée au fur et à mesure. Le sens du travail reste le même, d'une pointe latérale à l'autre, mais le procédé permet donc de combiner rayure et dentelle unie sans avoir à gérer des croisements de couleurs sur chaque rang.
Les couleurs du prototype sont fabuleuses, teintes par Hélène elle-même – mais je pense que vous pourrez vous approcher de très près avec le mérinos fin en noir et rouge vif !
Red Sun is knitted in two steps: first the striped two-coloured center, and then the single-coloured border that is attached as you knit it. The direction of work is the same, from one side tip to the other, but this method makes it possible to combine stripes and solid-coloured lace without having to switch yarn colours on every row.
The colours of the shawl in the photos are fabulous, dyed by Hélène herself – but I think you can get very close with my fingering weight merino in black and bright red!
Pointue est un grand classique sur mon stand, où je le porte très souvent car il reste sur mes épaules même en plein travail, que je sois sur la pointe des pieds pour décrocher un châle du mur ou pliée en deux pour chercher des pelotes dans le stock sous la table.
Là, on tricote le tout d'une traite, avec quelques rangs raccourcis judicieusement placés pour créer l'arrondi sans interrompre les trois points : le point mousse du centre, le point de goudron en entre-deux et les pointes ajourées de la bordure. Le proto est tricoté en mérinos fin fuchsia, mais je vous assure qu'il sera très beaux aussi dans un autre coloris !
Pointue is a classic in my booth where you can often see it on my shoulders. It stays put while I work, standing on my toes to take down a shawl hanging high on a wall or crouching behind the table to retreive yarn in stock.
In this pattern, you make the whole shawl in one go with a few well placed short-rows to create a rounded shape without disturbing the three stitch patterns: the garter stitch in the center, the welts in the border and the lace tips in the edging.
The shawl in the pictures is knitted in fingering weight merino in the fuchsia colour, but I can assure you that it will look great in any of the other colours too!
À tout bientôt pour des baktus au crochet !
Back soon with crocheted baktuses!