Une cliente m'a contacté pour savoir ce que je pouvais lui proposer comme combinaisons de couleurs pour tricoter Géométrie en bleu en rose plutôt que bleu.
A customer contacted me to ask for possible colour combinations – she wanted to knit Geometry in Blue in pinks, rather than blues.
Ne sachant pas si elle souhaitait un rose doux ou vif, je lui ai fait plusieurs propositions pour combiner des coloris de Mini Mochi (pour le fil multicolore) avec des coloris de mérinos fin.
I didn't know if she wanted a soft or a strong pink, so I put together several suggestions to combine colours of Mini Mochi (for the multicoloured yarn) with colours of fingering weight merino.
D'abord tout en douceur avec le coloris Mini Mochi Strawberry Ice, rose clair.
First, let's go for softness and pale pink with the Mini Mochi colourway Strawberry Ice.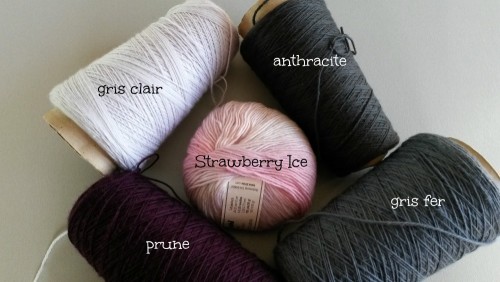 Pour un résultat très clair et tout en douceur, ce coloris peut se combiner avec le gris clair. Si on veut quelque chose de plus soutenu, le gris fer ou l'anthracite. En restant sur le rose doux du Strawberry Ice, on peut aussi ajouter un peu de punch avec le coloris prune.
For a very luminous and soft combination, this colourway works well with the light grey. For something more contrasting, try pewter or charcoal. You can also add a little punch with the damson merino.
Ensuite du rose gaie et festif, avec le coloris Festival pour la Mini Mochi.
Let's move on to happy and festive pinks, with the Mini Mochi colourway Festival.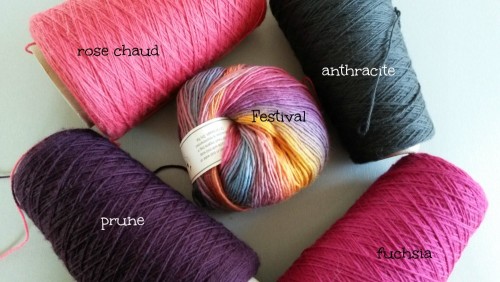 Le rose chaud souligne le multicolore tout en légèreté, tandis que le fuchsia ajoute plus de peps. Dans les unis plus sombres, le prune souligne le violet du coloris Festival, tandis que l'anthracite apporte un élément neutre avec un beau contraste.
The warm pink will underline the multicoloured yarn with a similar intensity, while the fuchsia will add stronger colour. In the darker solids, the damson will enhance the purple elements in the Festival colourway, while the charcoal works as a contrasting neutral.
Pas tout à fait rose, mais avec un élément violet, le coloris English Garden peut peut-être aussi s'inscrire dans ce thème.
Not quite pink, but with some purple, the colourway English Garden can perhaps also be part of this theme,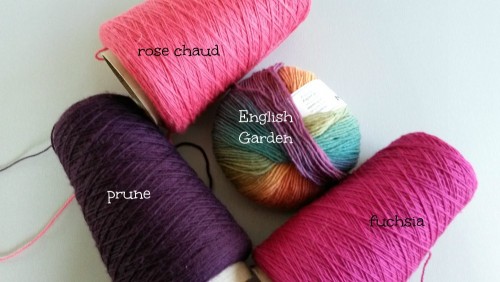 J'ai enlevé l'anthracite, le trouvant trop sombre, sinon ce sont les mêmes unis qu'avec Festival. Le rose chaud et le fuchsia permettent de rester dans le thème rose, tandis que le prune souligne le violet dans le coloris Mini Mochi, pour une combinaison pas rose du tout, mais vraiment très, très réussi.
I took out the charcoal, since I found it too dark, but the other solid colours are the same as for the Festival colourway. The warm pink and the fuchsia will keep the combination on the pink side of things, while the damson will enhance the purple shades in the English Garden colourway, for a combination that's not pink at all, but very successful.